In 2020 the office as we know it changed wholesale with staff decamping to spare rooms, kitchen tables and 'posh' garden sheds to keep business running. With 2021 now in full swing and the worldwide COVID-19 vaccine rollout progressing well a move back to office working expected to start soon. The past year has taught business that work is not a place and many business have indicated that they will continue to allow staff to work from both home.
A September 2020 report by Gartner, "Best Network Practices to Support Work-From-Home Initiatives" reflects a desire by many staff to continue to work remotely post pandemic so we are likely to see remote working as one of the negotiation points during recruitment with the most prepared and enlightened companies able to retain the best talent.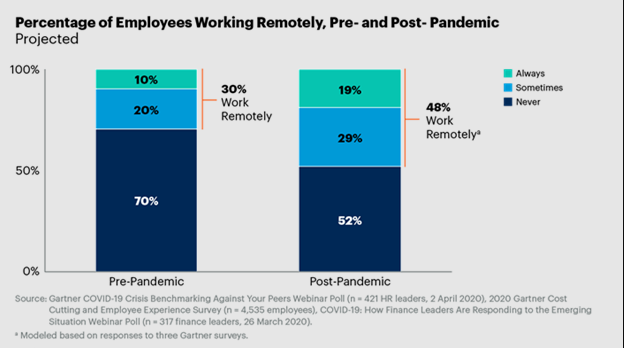 With the benefit of the past year of experience and a future commitment to remote working its a good time for businesses to take stock and review their remote working setups. Particularly given IT departments and provider needed to move quickly to support their users and often used a one size fits all approach.
Depending on the type of users you have and their reliance on applications and data sources located on systems and servers at the office a mix of technologies may be appropriate, providing greater access to trusted devices such as company owned laptops along with limiting access from personal devices which may be shared with other family members.
Maintaining Cyber-Security is a remote working environment can be challenging. Cyber-criminals are know to be actively targeting home workers seeing their isolation from peer support and use of personal computers and unsecured networks as an opportunity for profit. Active cyber-attacks and data breaches roles significantly during the later parts of 2020 and 2021 is off to bad start.
All remote worker solutions should implement additional security beyond a user name/password combination to include multi-factor authentication and data leak prevention. Remote devices should be subject to full IT management and security to prevent these becoming a bridgehead from which to conduct an attack.
So if your ready to take the next step in remote worker setup or would like an independent review of your current solution the feel free to get in touch.
Gary Turner – CTO ManageTech.